VOIP Latency
I have been fighing this for many years now and never seem to be able to find a solution or even a satisfactory answer on the 'Net except for - VOIP will never be as good as POTS/PSTN. If the later is true, why does it seem society has thrown PSTN off to the side?

So this is my attempt to gather some real data here to support anecdotal eveidence that suggest POTS, Skype, whatsapp is better than comercial VOIP, SIP, RTP, u-law ... etc. I would love to find a real solution to get POTS quality phone service in my home but short of stringing a wire between two cans (which has very little latency by the way), I have given up on that.

To measure the final REAL mouth to ear delay across a phone call I built a few elecret mic amps to drive a two channel osciliscope like so:



Which resulted in test traces with the two mics near each other and me mouthing a tick sound like: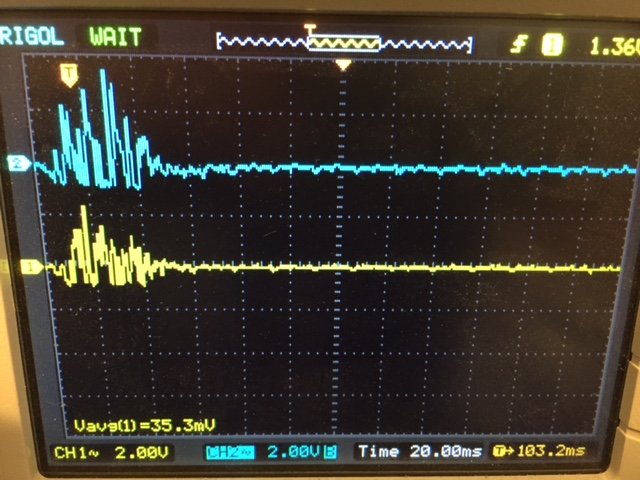 Ok. Lets test. I have two Grandstream GXP1405 VOIP phones with jitter buffer set to 100ms (minimum setting) and "adaptive". These are both on the same LAN and relay through Asterisk. I did tcpdump packet captures in and out of Asterisk and found the delay to be less than 5ms for the PCM u-law packets going in and out.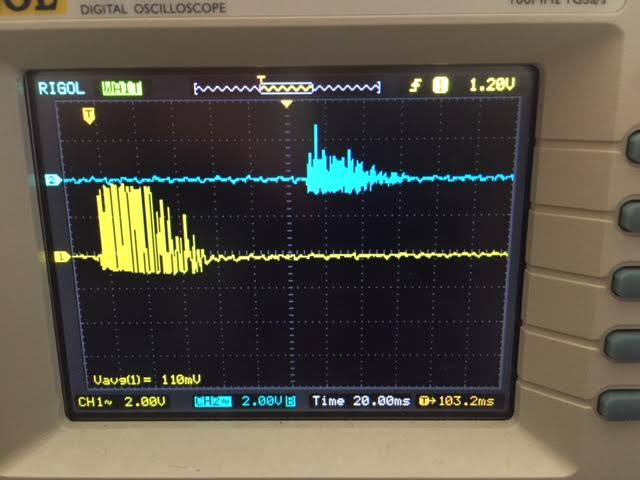 Thats over 100ms added by, I assume, all the fancy codec s/w+h/w. Clearly a string and two cans (or POTS) beats all this digital technology hands down. I will try a few other VOIP phones to see if I can get a unit with zero jitter buffer.

Now a test with the echo service at my VOIP provider voip.ms. Before doing this I did do packet captures looking at the delay between VOIP phone and ISP CPE. The path was: GXP1405 VOIP phone outgoing packet --> Asterisk --> Router --> ATT DSL modem incomming packet. Total delay contriibuted here was <5ms. The round trip ping time to the local voip.ms pop is 13ms and no other traffic is flowing through the ATT DSL modem. I bought this connection specifically for VOIP due to the very low jitter characteristics (less than 2ms jitter looking at smokeping) it has over a cable connection. Hoping this would fix my VOIP latency problems - but alas....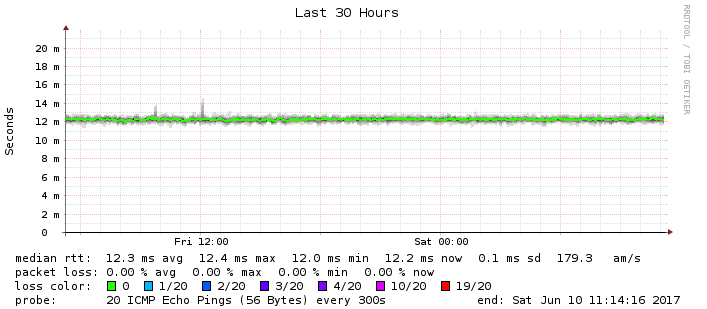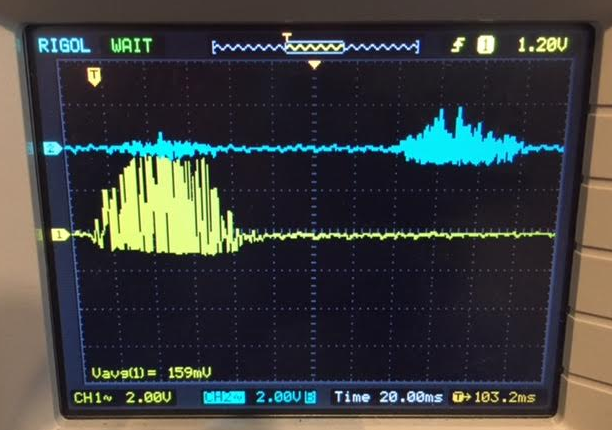 Thats 160ms ROUND TRIP on the echo test. Given the LAN-2-LAN test this leads one to believe the "problem" is mostly with my VOIP phones and not the VOIP provider. I would love to hear this answer and a recomendation on what VOIP phones to buy. I have old Polycom and Cortelco phones. Oddly the oldest and cheapest of the later seem to give the best (anecdotal - have not tested yet) quality call.

Next test is a real world test. A call from VOIP phone to a cell phone. In this case the path is GXP1405 VOIP phone --> Asterisk --> Router --> ATT DSL modem --> 'Net --> Voip.ms --> ATT Cell.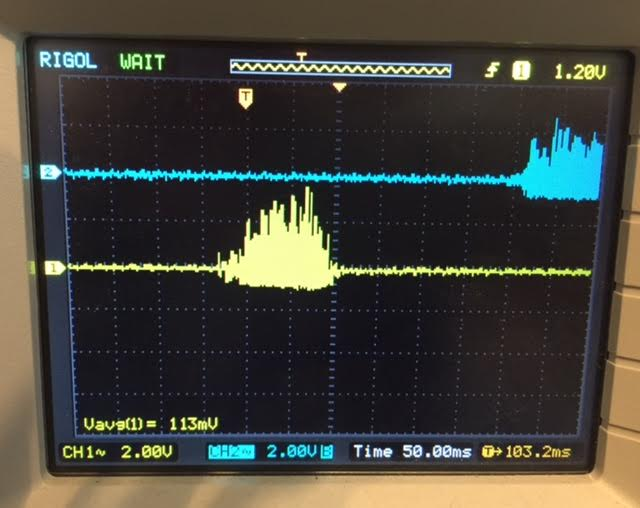 Wow!! >300ms ONE WAY (from VOIP phone mic to cell phone speaker). This is noticable and annoying to the callers. I am not sure where the delays are here.
As a final test I decided to test the latency of a WhatsAPP call as anecdotal evidence has told me that thes calls are much better than any SIP/RTP call I ever make. So using the same mic amps and osciliscope setup I tried whatsapp between two iphones connecting over LTE between ATT and T-Mobile carriers in California.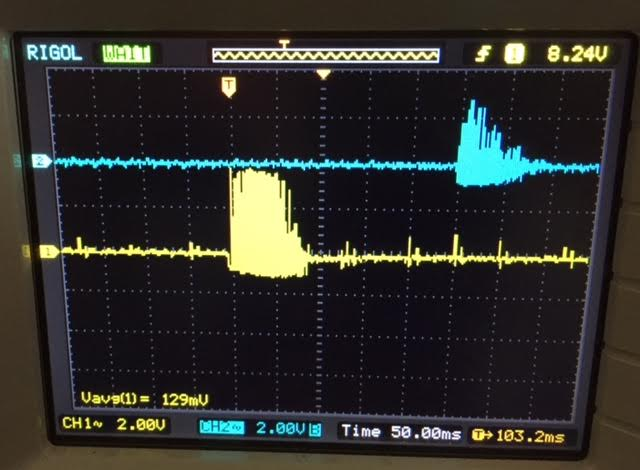 Thats 250ms one way. A little less but comprable to the "bad latency experience" call from VOIP/SIP/RTP and cell. Why? The sound quality of either call is good (no static, clicks, or cyber-sounding codec problems) but am still consistently told the latency/interaction quality of the non-standard-SIP calls are much better - even if the call is from Russia to US. So i guess more study is needed here. But one thing is for sure - give me less latency given a good 'Net connection. Otherwise I guess my colleagues and I need to go get POTS lines or switch completely to proprietary VOIP apps like whatsapp/skype.

---
Copyright (c) 2017 DC Communications, Inc.
Permission to use, copy, modify, and/or distribute this software for non-commercial use without fee is hereby granted, provided that the above copyright notice and this permission notice appear in all copies.
THE SERVICE AND SOFTWARE IS PROVIDED "AS IS" AND THE AUTHOR DISCLAIMS ALL WARRANTIES WITH REGARD TO THIS SERVICE OR SOFTWARE INCLUDING ALL IMPLIED WARRANTIES OF MERCHANTABILITY AND FITNESS. IN NO EVENT SHALL THE AUTHOR BE LIABLE FOR ANY SPECIAL, DIRECT, INDIRECT, OR CONSEQUENTIAL DAMAGES OR ANY DAMAGES WHATSOEVER RESULTING FROM LOSS OF USE, DATA OR PROFITS, WHETHER IN AN ACTION OF CONTRACT, NEGLIGENCE OR OTHER TORTIOUS ACTION, ARISING OUT OF OR IN CONNECTION WITH THE USE OR PERFORMANCE OF THIS SERVICE OR SOFTWARE.